Our Thermal imaging survey equipment is a powerful and non-invasive means of monitoring and diagnosing the presence of any air leakage or property defects in your home or commercial building, as if your property has walls and a roof, our equipment can find any issues that could be present and causing you either financial or health concerns.
As a family run and established company, we have been working with customers for many years, so we are confident in the service that our small but highly experienced surveyors and assessors provide to all of our customers.
Our survey will identify any points of weak or non-existent insulation, property defects, poorly fitted windows and doors and issues with your roof to look at air leakage and where heat could be escaping, as if you do have any issues that are allowing heat to escape from your property then this will be increasing your heating bills and making your home less energy efficient.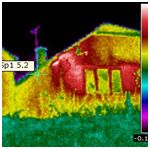 By identifying the cause of the leakage and finding any defects, both minor and major, you can increase your homes efficiency, save money and most importantly, stop any minor defects or issues becoming long term, major and costly ones.
Our Thermal imaging survey equipment takes a heatmap snapshot of your home, showing areas of heat loss and air leakage, which means you can cost effectively correct localised issues quickly and efficiently and start to reduce the loss immediately.
This will cut your fuel bills, keep your home warmer for longer and overall make your property a much nicer place to be, and will help to improve your homes energy rating (EPC) if you are looking to sell or have just purchased a home that needs some assistance.