Mould and damp in your home or place of work is not only a concern when it comes to the fabric of the building and the ongoing damage it can cause, but mould and damp can lead to serious health issues, especially in young children and the elderly, and left untreated over a period of time can really be a cause for concern.
Using our thermal imaging equipment and the survey we carry out, we provide a detailed report showing the areas that are likely to be prone to damp and mould long before they ever become a problem and visible, and our equipment can also find issues with insulation and other factors that can all lead to damp and mould starting to become a problem.
By understanding the areas that could be affected by damp and mould in the future and by understanding the causes of mould and damp means you can protect your property against this problem long before it ever gets a chance to develop.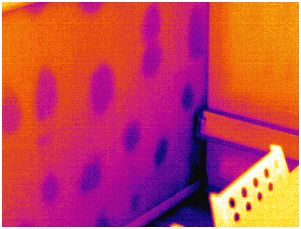 Our survey looks for all types of damp, including condensation damp, rising damp, penetrating damp and also damp and moisture that is present in timber, and helps to find the causes of them in your property, along with understanding how it could become a much bigger issue if left untreated or a solution is not found to the cause.
Because our survey is non-invasive it means there is little to no disruption to people living in your home or people operating in your work place, as our experienced and professional surveyors will book a time to attend a site visit and then carry out the survey.
We then provide you with a full report and also help you to identify the actions you need to take to prevent damp and mould becoming an issue in your property.